15 Métodos Para Adquirir Bitcoin Sin KYC
La información KYC (Conozca a su cliente) vincula su identidad personal a cualquier bitcoin que compre. EXCLUSIÓN VOLUNTARIA
Bisq
Bisq es un intercambio de bitcoin descentralizado al que los usuarios acceden a través de una app que se ejecuta en la red Tor. No requiere información KYC y permite a los usuarios comprar o vender directamente entre ellos sin un tercero de confianza.
Guide for purchasing Bitcoin on Bisq by @BitcoinQ_A‌‌
Buying non-KYC bitcoin on Bisq by @econoalchemist
Hodl Hodl
Hodl Hodl es una platforma peer to peer (p2p) que permite a los usuarios comprar y vender bitcoin sin intermediarios. Al igual que Bisq, Hodl Hodl es un intercambio de bitcoin p2p sin custodia. Sin embargo, se accede a ella a través de un navegador web en lugar de una aplicación dedicada.
Guide for purchasing Bitcoin on Bisq by @BitcoinQ_A
RoboSats
RoboSats es una forma sencilla y privada de intercambiar bitcoin por monedas nacionales. Robosats simplifica la experiencia del usuario p2p y utiliza facturas lightning hold para minimizar los requisitos de custodia y confianza. Los avatares generados de forma determinista ayudan a los usuarios a respetar las mejores prácticas de privacidad.
Aprender sobre RoboSats
Azteco
Localice un distribuidor de Azteco
Canjee su cupón Azteco por bitcoin en línea: introduzca su número de cupón y su dirección de bitcoin, y el bitcoin llegará a su billetera al instante. No se requiere ninguna información de cuenta o KYC para canjear un vale.
Easiest and Fastest Way to Buy Bitcoin: Azteco Vouchers by @keyvandavani
AgoraDesk
En AgoraDesk tratas con otros humanos. A diferencia de los intercambios de cryptocurrency centralizados, realizas un oficio directamente con otra persona. AgoraDesk es compatible con todos los métodos de pago que admite su comunidad de usuarios, lo que hace posible que los usuarios sin acceso a la banca tradicional también puedan comerciar con cryptocurrency.
P2P Trading with Agoradesk by @KYCFree
Peach
Peach es una app móvil que conecta a compradores y vendedores de Bitcoin. Compre o venda bitcoin p2p, en cualquier lugar, en cualquier momento, con el método de pago de su elección, al precio que desee.
Peach: Non-KYC P2P Platform by @rapidlab309‌‌
Peach: Europe's New P2P Bitcoin Marketplace by @31febbraioMI
LocalCryptos
LocalCryptos es un mercado p2p. Gente de todo tipo pone anuncios en LocalCryptos para comprar y vender cripto. Cuando dos personas acuerdan una venta, el comprador paga la mitad en fiat directamente al vendedor, por eso LocalCryptos es tan rápido.
LocalCoinSwap
Crea una cuenta en LocalCoinSwap con registro instantáneo. Utiliza la búsqueda para encontrar las mejores ofertas. Utiliza los filtros para acotar la oferta perfecta. Cuando encuentres la oferta adecuada, comprueba las condiciones. A continuación, inicie el intercambio y comience a chatear con el vendedor.
Bot de vales de Bitcoin
Bitcoin Voucher Bot es un mercado de Bitcoin para: Vales que puedes canjear en Bitcoin al instante (On-chain, Lightning, Liquid), Swaps de monedas, Swaps EUR/BTC, Planes de acumulación. Los servicios se distribuyen entre varios proveedores.
How To Buy KYC-Free Bitcoin Via Telegram by @TheBTCManual

LNP2pBot
@lnp2pbot es un intercambio p2p de código abierto, sin registro de usuario y sin verificación de identidad, que se ejecuta en la parte superior de un bot de Telegram. Permite comprar y vender satoshis (unidad fraccionaria mínima de Bitcoin) a través de Lighting Network.
Aprender @lnp2pbot‌‌
How To Trade Non-KYC Bitcoin P2P On Telegram by @TheBTCManual
#Bitcoin-OTC Marketplace
#bitcoin-otc es un mercado OTC para comerciar con bitcoin. El mercado se encuentra en el canal #bitcoin-otc de la red IRC Libera Chat. Si no tienes un cliente de IRC, haz clic aquí para visitarlo.
Bitcoin ATM
Encuentre su cajero más cercano con Coin ATM Radar
‌‌How to use Textverified to buy non-KYC bitcoin at a Bitcoin ATM by @heady_wook
‌‌How to Buy Non-KYC Bitcoin From A Bitcoin ATM by @ian_major
Coinflip | Rockitcoin | Maine Bitcoin | Freedom Gateway | Shitcoins.Club
Mining
Mining for the streets - Una guía simple de @Diverter_NoKYC  para adquirir bitcoin sin KYC/AML usando ASIC mining‌‌
Home mining for non-KYC bitcoin - Un articulo de @econoalchemist sobre montar un minero de bitcoin ASIC en casa con el objetivo de generar un stash no-KYC.
Mining At Home -- As a Pleb
‌‌Plebtistic Guide to Home Mining (s9)
‌‌Mining Bitcoin in an Apartment‌‌
Home Mining Wizards Telegram Group
‌‌Ungovernable Misfits - Pleb Miner Month
En Persona
Comprar bitcoin en persona a un individuo (peer) utilizando dinero en efectivo.
Local Meetups | Conferences | Bitcoin Events.UK | Grassroots Bitcoin
Gánalo
Vender productos / servicios a cambio de bitcoin.
Bitcoin P2P Marketplace | r/Jobs4Bitcoin | Bitejo ‌‌| Tukan Market | MicroLancer.io | FreelanceForCoins


Recursos
KYC? Not me!
Find best NON-KYC online services
Exchange | OrangeFren
Checks many instant, Kyc-free, exchanges then takes you to the one with the best offer
Nokyc A Scipt that lists all current Bisq, HodlHodl, and Robosats offers in the terminal

Nokycbot - Telegram Bot

P2P Bitcoin Trading Exchanges
Create simple P2P NO-KYC exchange groups with your friends
How to buy non-KYC BTC with a US Postal money order
How to buy, earn and spend KYC-free Bitcoin (without ID or a bank account)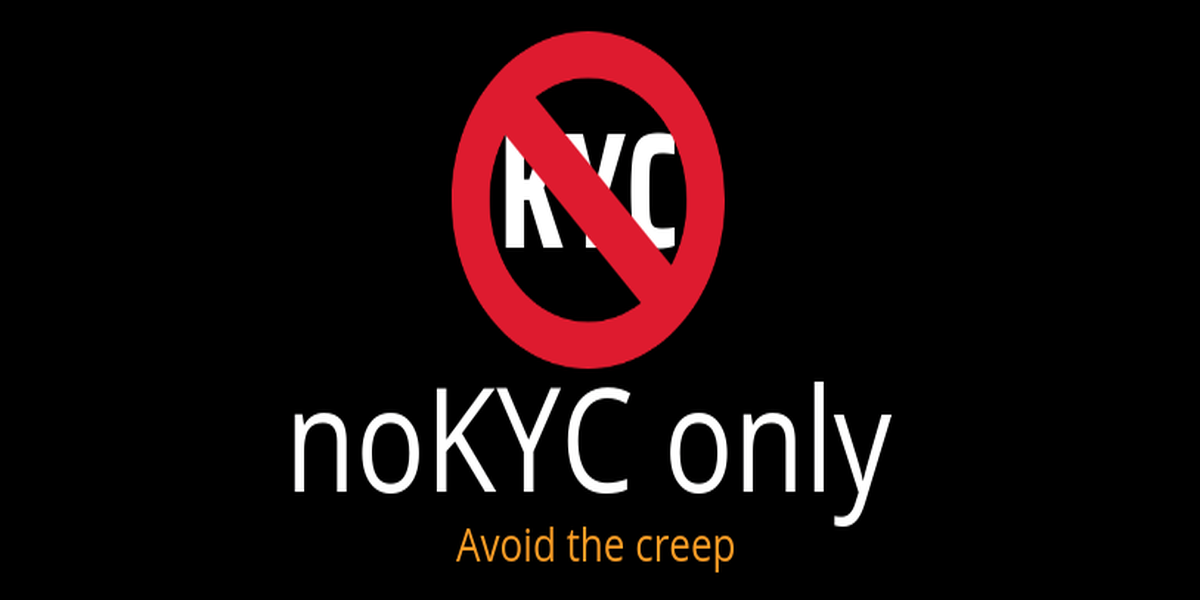 Disfruta de esta canción de @Crypt0_Bear